POSTED BY: Luke
10 Innovative Facebook Commerce Examples
19th Apr, 2011
I've been posting about Facebook commerce a lot of late. In the last post I mentioned that f-commerce will work when it's done right and that a one size fits all approach won't work. If it's done right it will work is probably easier said then done so lets take a look at 10 examples of brands who have been doing it right. Their  approach to f-commerce has been both innovative and creative.
It might also be worth looking at these other recent examples using Facebook Credits – 5 great uses of Facebook Credits.
1. Dexter & French Connection
I have bundled these two together as they used the same approach to generate sales. It's the concept that has earned their place on this list. Both Dexter and French Connection allowed fans to make purchases from within their newsfeed. I posted recently on how 85% of fans don't visit your page, so having a shop tab will ever only attract a portion of that other 15% (unless of course you are doings something to drive traffic to the tab). Dexter and French Connection got around this by putting the store within a Newsfeed story. Here's how it looked on Dexter's wall, just like a story posted to it and one that appeared in the newsfeed of the shows many fans. Of course the drawback is longevity of such a post, perhaps 48 hours max, and re-posting it will only annoy fans. But for one off short promotions it's a great idea.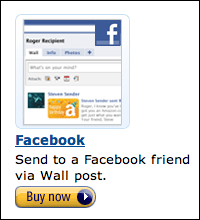 2. Amazon Gift Cards
These Amazon gift cards can be purchased for friends and will be posted to their wall on their birthday – or on a date of your choosing. There's only three steps involved in purchasing the card, you sign in with Facebook, create the card and then send it on. Amazon doesn't share any user information or purchase information and only the recipient will see the amount and the claim code on their wall.
3. Ticketmaster
This Ticketmaster example has been mentioned before here, but it's worth including again. Every time a Ticketmaster fan shares a Ticketmaster update with their friends, that share generates $5.30 in direct sales for the ticket agent. Now you might say they're selling music, and music is something people care a great deal about, but how can you make people care more about your products, or your updates?
4. Heinz
I mentioned Heinz in yesterdays post, but its inclusion is warranted on this list. Mostly because Heinz created a demand for a product that I believe no-one would ever think of purchasing through social media – Ketchup. They did this by launching a new limited edition flavour through Facebook, and allowed fans purchase it before it went on general sale. They created brand awareness, demand, a lot of press and sales for this.
5. Adidas
Not to different from the Dexter and French Connection examples above. This Adidas newsfeed store has interactive elements to it, making it a slightly different proposition than the first examples. It will also get around the issues of re-posting the newsfeed store if the interactive games elements change on a regular basis.
http://www.youtube.com/watch?wmode=opaque&v=LR4Nk_jb80A&feature=player_embedded#at=53
6. American Eagle
I've included American Eagle because of an amazing statistic released by Facebook, which states that referral traffic from Facebook to American Eagles online shop on their website, spend 58% more than traffic referred there from elsewhere. That elsewhere includes Google, Bing and I'd imagine online ad's. It doesn't say how the Facebook referrals compared with revenue from direct traffic. Either way it's still an impressive figure.
7. TelePizza

Pizza's and social media have a long history. Back in 2008 Pizza Hut launched an app to order pizza through, but it was very poorly received. More recently Domino's launched an affiliate marketing Facebook app for fans to sell to their friends. Telepizza haven't done anything ground breaking, they have just launched a better version of the Pizza Hut app that allows fans to order pizza's online.
8. Threadless
Eight points in and this is the first shop tab on Facebook to be featured on this list. It may look like a run of the mill shop on Facebook, but it's far from it. Threadless make and sell T-Shirts, the 10 year old company generates annual revenues of over $17 million with an impressive 35% profit margin. Threadless isn't so much a shop, more of a curated social shopping environment. Visitors can choose to submit a design, vote on a design or buy a previous winning design. Every two weeks the top designs go into production, their designers earn $2500 for commercial rights and every design subsequently sells out. Shoppers rate and review the styles, all of this actually happens within the Threadless website. So where is the Facebook link? Their Facebook page revolves around their online sales, in a direct way (shop tab) and indirect way (leaderboard of current designs). However its the concept of the shopping exeprience, more than just the Facebook presence, which earns it's place on this list. This is social shopping, where a community come together and have their say on how the finished products turn out. Whats more, it's an actual community with real world meet ups across the globe! More on the brand here and here.
9. Tesco
The Lifestyled campaign behind Tesco's clothing range is very impressive for a number of reasons. Mostly down to positioning what should be a very unfashionable brand as being fashionable. The campaign used social media to achieve this, mostly through its own blog and fashion bloggers. The chain also distributed promotional codes through Facebook and Twitter, which could be traced, that generated £2 million in sales for the brand.
10. Diesel Cam
Clothing brand Diesel integrated it's instore shopping experience with Facebook through the innovative use of a 'Diesel Cam'. The cam allowed in-store shoppers in Spain to share on Facebook what clothing items they are thinking of purchasing. The campaign only operated in stores in Madrid and Barcelona, but achieved a significant impact in social media, while also increasing traffic through the stores during the campaign.
The Takeaway
Whats clear from all of these examples is that they have taken a tailored approach to selling on Facebook. From sending more profitable leads, to limited edition products and newsfeed sales, these examples demonstrate the countless ways brands are tackling the issue of sales on Facebook. No one way will work for every brand and it's from from easy. As I mentioned yesterday, you still have to attract the shopper in the door, show them something they want and then get them to part with the cash – be it in a virtual shop or a real bricks and mortar shop.