POSTED BY: Luke
Twitter Marketing in Action
11th Oct, 2010
I found some really interesting examples of Twitter being used for marketing that I thought I'd share. Twitter, in my opinion, is a fantastic news source. The speed at which stories are spread across the world is fast enough to make traditional news organisations seem slow. As was the case with the recent car bomb in Derry when Twitter users in the area began to ask questions and post information as they heard it, a full hour before the story broke on television.
No social network other than Facebook releases information about how many users they have on this Island, we are often reduced to estimations on the size of the Irish audience. The problem with estimations is that they will be some way inaccurate, and quickly fall out of date. But with instances like the Derry car bomb illustrating to non-users the value in using the micro blogging service and just about every media personality plugging their own Twitter account when they get a chance, you can assume that Twitter has experienced significant growth in the last year, making it a channel hard to ignore when reaching customers.
1. Yeo Valley
I'd often have Twitter running in the background when watching TV. Especially for things like X Factor, which often dominate the tweets sent during the broadcast. Last Saturdays show featured this advert for Yeo Valley
Immediately the advert was picking up notice on Twitter. Enough for it to become a trending topic. Nick Burcher has an interesting post on it this morning. Yeo Valley created compelling content and, knowing the most amount of eyeballs in the UK and Ireland would be on the X-Factor, bought advertising time during it in order to drive conversation around the brand. The ad has received over 180,000 views on Youtube since the 8th of October, roughly 150,000 of which since Saturday.
2. Orange Singing Tweetagrams
Orange asked Twitter users to submit tweets using the #singingtweetagrams. Selected tweets would then be sung by the Rockabelle's and released within a couple of hours.  It has shades of the Old Spice campaign, taking real time input from the public and using it as a basis for marketing communications. You can hear a selection of the singing tweetagrams here. Orange also released this behind the scenes footage last Friday, the day after the promotion ended.
3. Tweetonomics
This video from Trend Hunter, shows some of the more interesting firsts in the use of Twitter such as a Twitter trainers and Twitter cakes.
4. Bord Gais Think Beyond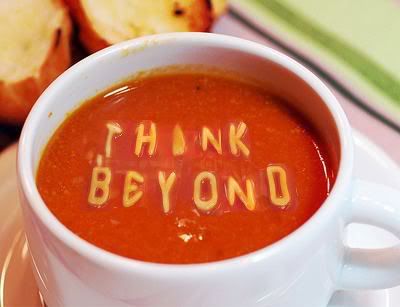 I thought I'd include this Irish example as well. This was carried out by Bord Gais to promote the launch of their iPhone App. Through ads in the Irish Times they announced a promotion giving away 1,600 euros worth iTunes vouchers and 4 Apple 4's between midday and 4pm on August 26th last. All you had to do was follow @eoinos to receive competition updates. Entrants were then notified of four tasks over the course of the day. The first was to download the Bord Gais fingerprint logo and set it as your wallpaper and tweet it as a screenshot, using the hashtag #beyondthinking.
The next test asked entrants to pose beside their Irish Times newspaper ad, the third to come up with a creative way of saying 'Think Beyond', both of which needed to be tweeted to enter. The final task required someone to reach a Dublin location first in order to win an iPhone. A full run down of the day and some of the creative entries can be found here.
Although seen as a very linear service without much scope within the 140 character messages, it's not surprising that non users often don't 'get' Twitter. However, I think these examples really demonstrate the application of the service to drive marketing activities around different types of brands. It may only be 140 characters but when used correctly those small amount of characters can distribute communications, entertain customers and communicate messages in new and interesting ways.